Oversight
The Budget Office, a unit within the Division of Business Affairs, provides oversight and administration of the UNC Charlotte budget.
All-Funds Budget
Early in 2020, the UNC Board of Governors asked the UNC System to implement a consistent format for reporting each institution's operating budget. The following information represents the operating budget for all funds at UNC Charlotte. This All-Funds budget was approved by the UNC Charlotte Board of Trustees on April 13, 2022 and then the UNC Board of Governors on May 25, 2022.
View the BOG approved FY 2022-23 All-Funds Budget Template
Budget Conventions and Standards
All FY 2022-23 budgets represent operating revenues and expenses that are prepared on a modified cash basis, not accrual basis. Unearned revenue is not included, nor are noncash expenses, such as depreciation. Planned eliminations are included in the University-wide budget but are not included in the unit-specific budgets. Furthermore, since the All-Funds Budget is focused on the operating funds of the university, it does not include capital budget information.
General Fund: Funds that are either appropriated by the State of North Carolina via legislation to the University or charged to students for educational purposes provided by the University.

State Appropriations
Tuition

Auxiliary & Other Trust Funds: Revenue-generating, self-supporting services, such as housing, dining, parking, athletics, and health and wellness services.

Student Fees
Sales & Services
Patient Services

Overhead Receipts: Facilities and Administration (F&A), also referred to as indirect costs, associated with the generation of sponsored research grants.
Restricted Trust Funds: Grants and contracts awarded for specific program and research objectives. These awards must be used in a manner consistent with the intended restrictions of the donor or grantor.

Contracts & Grants
Gifts & Investments
Other

Salaries and Wages: Compensation for faculty, staff, temporary and student employees.
Staff Benefits: Costs of employee benefit plans such as retirement, medical and FICA calculations.
Supplies, Materials, and Equipment: Expenditures for supplies, materials, capitalized, and non-capitalized equipment costs required to operate the University.
Scholarships & Fellowships: Student financial aid.
Debt service: Costs associated with debt payments.
Utilities: University utility costs, e.g., electricity, gas, water, and sewage.
Other Expenses: Expenditures for adjustments and other expenses, e.g. membership dues, subscriptions, etc.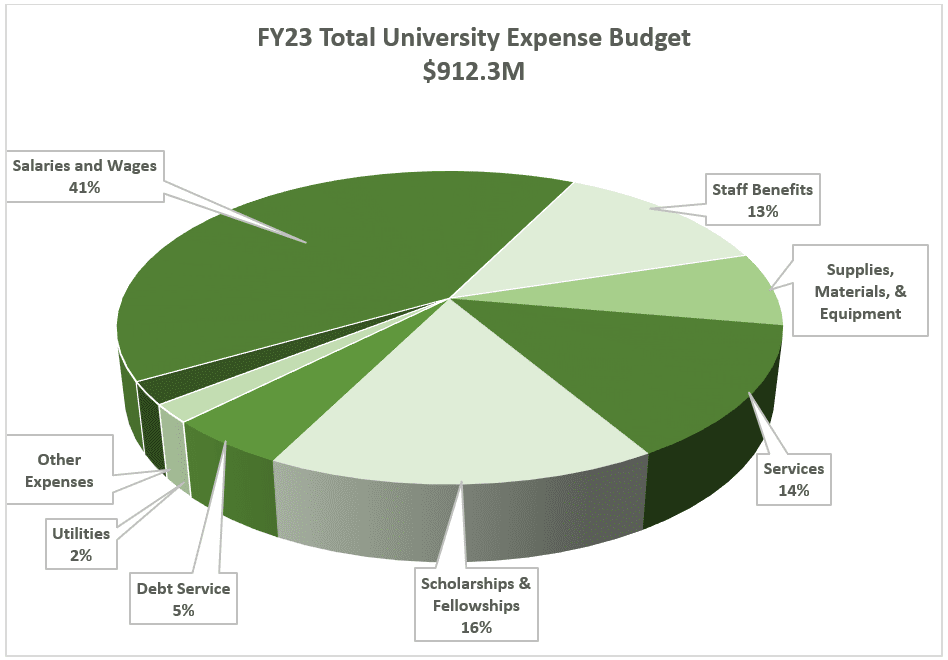 Internal Resources
External Resources
UNC-System Office Finance and Administration